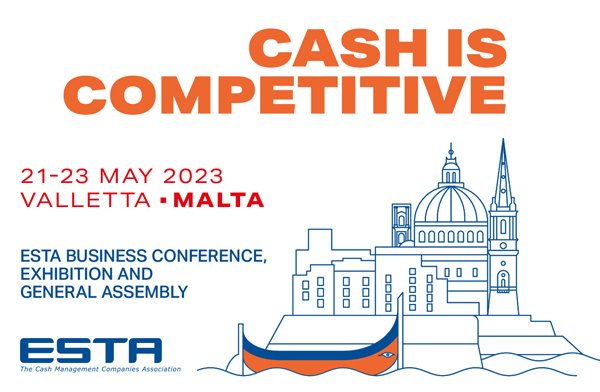 FromMay 21, 2023 UntilMay 23, 2023
Book event
Book hotel
Early bird rates until 15 April only! The ESTA conference and exhibition with theme "Cash is Competitive" takes place at the Grand Hotel Excelsior, Malta, from 21-23 May 2023. Join us in this one-and-a-half day's Member event, with the unique opportunity for networking with major players of Cash Management Companies and visiting the exhibition at a […]
Early bird rates until 15 April only!
The ESTA conference and exhibition with theme "Cash is Competitive" takes place at the Grand Hotel Excelsior, Malta, from 21-23 May 2023.
Join us in this one-and-a-half day's Member event, with the unique opportunity for networking with major players of Cash Management Companies and visiting the exhibition at a stunning venue.
Key dates and times
Conference: 21-23 May 2023
Registration opens Sunday 21 May, Grand Hotel Excelsior
Welcome Cocktail and Dinner: Sunday 21 May, Grand Hotel Excelsior, Bastion Terrace
Conference Day 1, Monday 22 May, 09.00-17.00
Conference Day 2, Tuesday, 23 May, 09.00-13.30
Partners Program: Monday 22 May, 09.00-15.00
Gala Dinner: Monday 22 May, Valletta Knights' Infirmary underground Hall La Valette
Preview of topics to be tackled at the 2023 ESTA Conference with theme "Cash is Competitive".
1st panel, The new cash paradigm post COVID and in time of uncertainty: what will the cash cycle be looking for in the future? Several National Banks debating with CIT representatives and experts in Banking and Economics.
2nd panel, The future of cash as a means of payment? How to reconcile consumers and retailers with cash after being nudged throughout covid to use e-money by fear of contamination. What is the cost to retailers, from the very big to the very small ones. Make sure you'll attend to hear what they have to say.
Cash is at a cornerstone. Challenged by COVID and the COVID-based marketing of contactless as the "safest means of payment", the volume of cash payments has dropped sharply in the last two years, by fear of contamination. Yet, the war in Ukraine starting in February last year has led to a substantial increase in cash demand, as does any crisis, so much so that countries which thought they could do without cash have suddenly rediscovered it, by fear of disruption of alternative – electronic – forms of money. 2023 could see the adoption in the eurozone of the e-euro, the first European central bank digital currency.
Members of ESTA are given priority in conference reservations. Check up your membership category here for accurate registration.
Registration is only effective when annual membership fee is paid in full. All registrations are subject to confirmation by ESTA.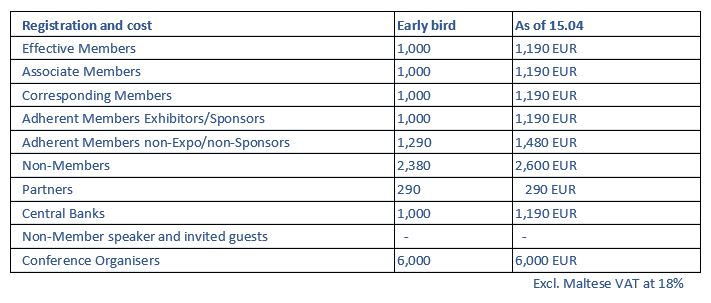 ESTA has preferential rates at the Grand Hotel Excelsior 5*
Each participant pays for their own transport and room costs. Make sure to profit from ESTA's Room block until 15 April 2023. May is a busy month in Malta!
Deluxe Inland at 175 EUR single room per night. Double occupancy at 191 EUR per night. Rates on B&B. Bookings are available from the left menu. Pre and post conference dates are available.
Set just outside the historic entrance to Valletta, this seafront hotel enjoys stunning views of Marsamxett Harbor and Manoel Island. It offers free parking, a gym and large outdoor and indoor pools all for free. Rooms combine classic and modern design. Grand Hotel Excelsior features landscaped gardens, a private beach and a spa.
Location:
Great Siege Road, Valletta, FRN 1810, Malta
We are holding the Sunday 21 May Welcome Cocktail and Dinner at the Grand Hotel Excelsior's on their private Bastion Terrace with Panoramic sea views of Marsamxett Harbor and Manoel Island.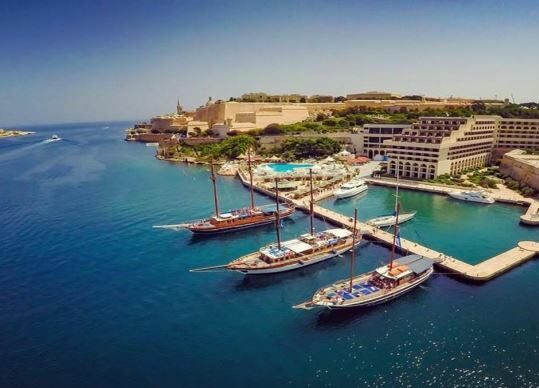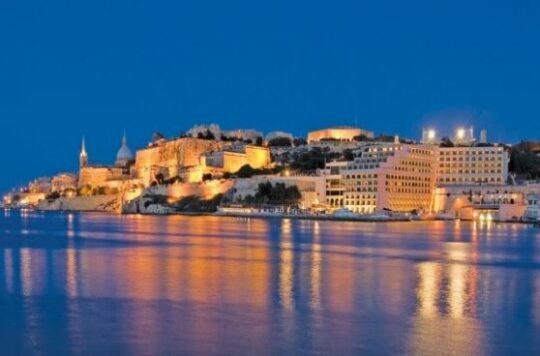 We are holding the Gala Cocktail and Dinner on Monday 22 May at the prestigious La Valetta Knight's Infirmary Underground Hall.
Going there: Bus transportation is organised to the gala dinner and back to the Grand Hotel Excelsior.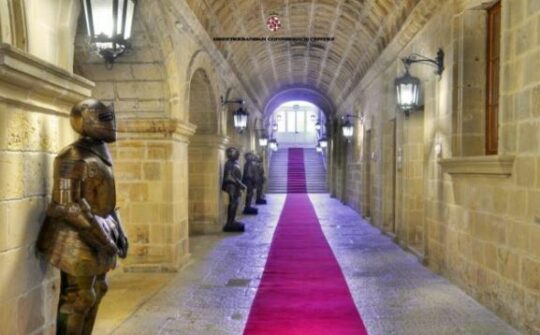 Almost sold out!
The exhibition area is located adjacent to the conference room and enjoys direct daylight. All coffee breaks and lunches will be served in this area to guarantee excellent networking.
Exhibition booths are allocated on a "first come, first served!" basis at a cost of 1,950 EUR for normal size booths and larger booths at 2,450 EUR, VAT not included.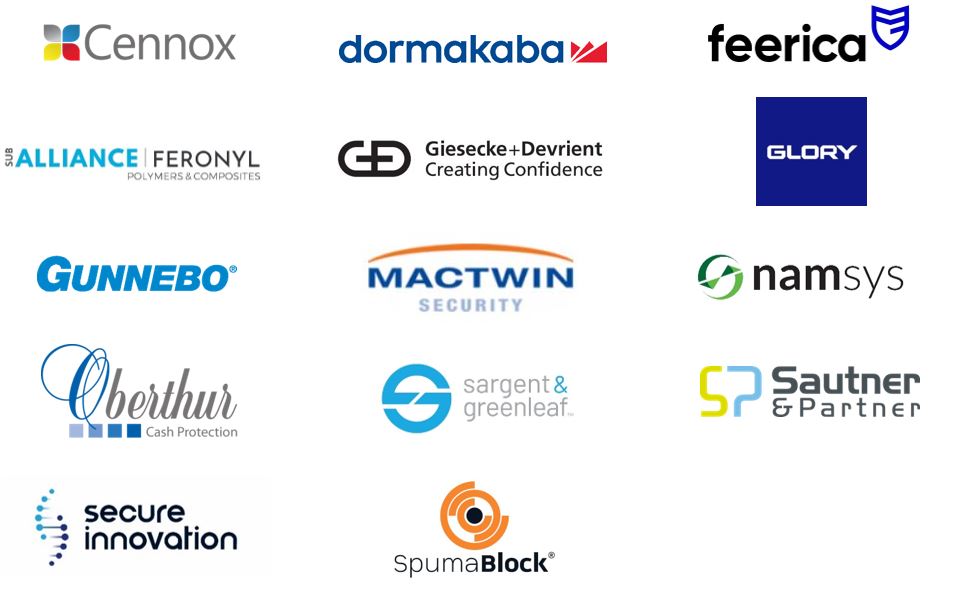 Contact ESTA by email to register your company and receive the 2023 expo package : contact@esta.biz or nicole.ryden@esta.biz
Become a sponsor
ESTA offers a sponsorship package to members to enhance visibility before, during and after the conference. This is your chance to promote your company! Contact ESTA by email to register for sponsorship: contact@esta.biz or nicole.ryden@esta.biz
Mdina & Rabat
Monday, 22 May
This half-day tour including lunch is offered within the Partners registration fee at 290 EUR. Book your seat by 15 April with nicole.ryden@esta.biz
Getting there
The best way to get to the Grand Hotel Excelsior from Valletta Airport is taking a taxi. The hotel is located 8 km from the Malta International airport. Taxi could cost roughly €20 each way to and from the Airport.
ESTA is organising bus transfers from the hotel to the airport on the Tuesday afternoon.
Location:
Great Siege Road, Valletta, FRN 1810, Malta
These Terms & Conditions for delegates apply to every person registering to the ESTA conference organised by the European Security Transport Association.
Conference Registration
Only fully completed registration forms will be accepted. ESTA reserves the right to decline a conference registration if the delegate does not fulfil requirements for attending nor supports the objectives of ESTA. Registration of Non-Member ESTA is subject to ESTA's agreement. An invoice will be sent as soon as the registration has been accepted by ESTA. Delegates are only accepted entrance to the conference area after full payment has been received.
Methods of payment
Payments should be made by bank transfer. All bank fees and money transfer costs must be paid by the transmitter. Amount in euros to be transferred upon receipt of the invoice into our international bank account stated on the proforma invoice: ESTA Maltese VAT number: MT29842014
Please note that this is a temporary VAT registration in Malta for the time of the conference which will be cancelled in the few months following the conference. It may not be possible to recover VAT after cancellation of ESTA temporary VAT registration.
Cancellation Policy
Up to 30 days: full reimbursement minus an administrative fee of 4%
30 days to 2 weeks before hand: 50% refund
Less than 2 weeks: no refund.
Privacy notice – Further to the EU General Data Protection Regulation (GDPR) any personal information provided by the conference delegate during the conference registration process will be handled internally by ESTA exclusively for the running and the organisation of the conference: this includes billing, programme information, dinner events and related communication. All data collected will be deleted after three years. By registering to the ESTA conference or any part of it, you give explicit consent to the use of your data in this context.
If you have any questions or concerns about our use of your personal information, then please contact us at contact@esta.biz
Why attend?
Get the latest on the Industry – High-ranking speakers from the cash industry, as well as EU decision-makers, central bankers, member state government representatives and other key stakeholders will be present to discuss the theme "Cash is Competitive" 
Increased company visibility – Networking opportunities for members will maximize your visibility and promote your company across the European and international cash industry. It is the unique CMC event in Europe where you will interact with industry decision-makers.
EU Information – ESTA, with in-depth knowledge of the EU Institutions, provides the latest information on EU legislation in a clear and structured manner. ESTA has developed close working contacts with EU officials who will be present at the conference to discuss potential EU legislation.
Exhibition – A lively, international exhibition in the heart of the conference area, will display ESTA members' services and technologies. ESTA members' companies are represented during the conference by their senior executives, CEO or owners. This exhibition is a unique opportunity for conference participants to develop links with potential business partners.