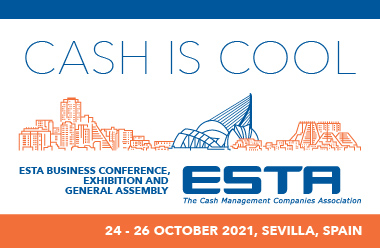 FromOctober 24, 2021 UntilOctober 26, 2021
Book event
Book hotel
Cash is cool 2021 Conference sessions programme is available for download This year's conference and exhibition with the theme "Cash is cool" will be the only physical cash conference in 2021. Join us in a face-to-face after too many months of cyber meetings. With the Big Brother watching over a cashless society, the last island […]
Cash is cool 2021
Conference sessions programme is available for download
This year's conference and exhibition with the theme "Cash is cool" will be the only physical cash conference in 2021. Join us in a face-to-face after too many months of cyber meetings.
With the Big Brother watching over a cashless society, the last island of privacy would disappear as payment data would add to the ocean of data that exist on each of us in the digital economy.  
The ESTA conference and exhibition is a one-and-a-half day's event, with the opportunity for networking with major players of Cash Management Companies and visiting the exhibition area.
Key dates and times
Conference: 24-26 October, Meliá Sevilla Lebreros
Registration: opens Sunday 24 October, as of 15.00
Expo inauguration and Welcome dinner: Sunday 24 October, 19.00
Conference Day 1, Monday 25 October, 09.00-17.00
Conference Day 2, Tuesday, 26 October, 09.00-13.30
Gala Dinner: Monday 25 October Hacienda San Miguel de Montelirio
Download your copy of the conference sessions here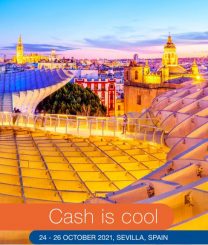 With the Big Brother watching over a cashless society, the last island of privacy would disappear as payment data would add to the ocean of data that exist on each of us in the digital economy.  
The 2021 year's conference will look at the impact of the possible reduction of cash use on privacy, freedoms and individual liberties and other consequences of a cashless society on consumers and citizens at large. A part of the ESTA conference will be devoted to loyalty schemes and consumer profiling in relation inter alia to payment data, and how prices can be individualized for each of us based on consumers' individual data profile. We will be reminded how e-shopping and web surfing is impacting on data gathering. The conference will also update on the situation in Sweden and in the UK with regards to legislation and obstacles accessing cash. 
Finally, the ESTA Attack and loss report 2020 will be revealed alongside specificities presented by national police.   
Venue and Room Booking
ESTA has preferential rates at the conference venue Meliá Sevilla Lebreros at below prices breakfast included. The negotiated rates are still available (extended date). The rooms are to be booked by the individual guest and paid upon departure.
If you encouter any issue booking via the link, please contact directly: sales.melia.lebreros@melia.com
Melia room Double for single use  –  140 €
Premium room Double for single use  –  155 €
Melia The Level room Double for single use  – 180 €
Gran Premium The Level room Double for single use  – 210 €
Junior Suite The level Double for single use  – 230 €
Force majeur: delegates travelling from the US would get a complete room refund of Melia Lebreros after the contracted date of September 23rd if due to Covid restrictions US citizens are no longer allowed to travel to Spain without imposed quarantine.
Hotel and Conference Venue address:  Calle Luis de Morales 2, 41018, Seville 
Getting there
The conference venue Mélia Lebreros is well connected with Sevilla airport by public bus Aeropuerto which stops close to the hotel. The Santa Justa train station is also ideally located conveniently near the hotel. By taxi it would be 10-20 minutes depending on traffic conditions at approx 27 EUR.
Complementary bus transport
After conference end there will be transport to the Sevilla airport. One bus leaving at 13.30 and a second bus leaving at 14.30. Please be there 15minutes earlier to secure a seat.
Exhibition
The exhibition at events organised by ESTA is limited to 16 booths this year and they are allocated on a first paid basis at a cost of 1,950 EUR (10m2), larger booths at 2,450 EUR (15m2), VAT not included. Exhibitors with larger booths get free ¼ page advertisements in conference brochure.
Inauguration of Exhibition
The Exhibition will be inaugurated during on the Sunday 24 October at 19.00 followed by a welcome dinner.
Stay safe
Your safety is our concern, and we are reassured that the event will be as safe as possible with the strict protocol implemented at the Meliá Sevilla Lebreros.
The Gala dinner will take place on the Monday night 25the of October at the Hacienda San Miguel de Montelirio which is one of the best examples of rural Andalucian culture.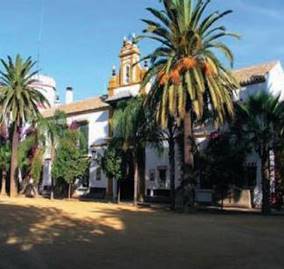 Transfer by bus from the hotel Mélia Sevilla Lebreros.
General Terms and Conditions
These Terms & Conditions for delegates apply to every company registering delegates to the ESTA conference and events, webinars and other cash-related fora organised by the European Security Transport Association.
Conference Registration
Only fully completed registration forms will be accepted. ESTA reserves the right to decline a registration if the company does not fulfil requirements for attending nor supports the objectives of ESTA. Registration of Non-Member is subject to ESTA's agreement.  An invoice will be sent as soon as the registration has been accepted by ESTA. Delegates are only accepted entrance to the conference area after full payment has been received.
Methods of payment
Payments should be made by bank transfer. All bank fees and money transfer costs must be paid by the transmitter. Amount in euros to be transferred upon receipt of the invoice into our international bank account stated on the invoice.
Cancellation Policy
Up to 30 days: full reimbursement minus an administrative fee of 4%
30 days to 2 weeks before hand: 50% refund
Less than 2 weeks: no refund.
Registration to ESTA's conference implies the full acceptance of these T&Cs.
Why attend?
Get the latest on the Industry – High-ranking speakers from the cash industry, as well as EU decision-makers, central bankers and other key stakeholders will be present to discuss the theme "Cash is Cool".
Increased company visibility – Networking opportunities for members will maximize your visibility and promote your company across the European and international cash industry. It is the unique CMC event in Europe where you will interact with industry decision-makers.
EU Information – ESTA, with in-depth knowledge of the EU Institutions, provides the latest information on EU legislation in a clear and structured manner.
ESTA has developed close working contacts with EU officials who will be present at the conference to discuss potential EU legislation.
Exhibition – A lively, international exhibition in the heart of the conference area, will display ESTA members' services and technologies. ESTA members' companies are represented during the conference by their senior executives, CEO or owners. This exhibition is a unique opportunity for conference participants to develop links with potential business partners.
International travel and Covid 19
Below a link to the Spanish health authorities with information on requirements for travel to Spain and the mandatory Health Control Form which must be completed before departure.