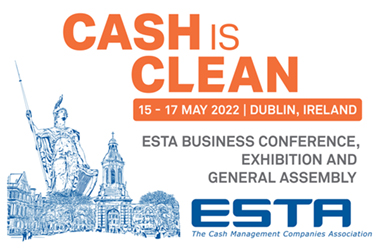 FromMay 15, 2022 UntilMay 17, 2022
Book event
Book hotel
Presentations of the May 2022 "Cash is Clean" conference  will be made available from this page
Presentations of the May 2022 "Cash is Clean" conference  will be made available from this page
General Terms and Conditions
These Terms & Conditions for delegates apply to every person registering to the ESTA conference organised by the European Security Transport Association.
Conference Registration
Only fully completed registration forms will be accepted. ESTA reserves the right to decline a conference registration if the delegate does not fulfil requirements for attending nor supports the objectives of ESTA. Registration of Non-Member ESTA is subject to ESTA's agreement. An invoice will be sent as soon as the registration has been accepted by ESTA. Delegates are only accepted entrance to the conference area after full payment has been received.
Methods of payment
Payments should be made by bank transfer. All bank fees and money transfer costs must be paid by the transmitter. Amount in euros to be transferred upon receipt of the invoice into our international bank account stated on the proforma invoice: ESTA Irish VAT number: IE3672076PH
Please note that this is a temporary VAT registration in Ireland for the time of the conference which will be cancelled in the few months following the conference. It may not be possible to recover VAT after cancellation of ESTA temporary VAT registration.
Cancellation Policy
Up to 30 days: full reimbursement minus an administrative fee of 4%
30 days to 2 weeks before hand: 50% refund
Less than 2 weeks: no refund.
Privacy notice – Further to the EU General Data Protection Regulation (GDPR) any personal information provided by the conference delegate during the  conference registration process will be handled internally by ESTA exclusively for the running and  the organisation of the conference: this includes billing, programme information, dinner events and related communication. All data collected will be deleted after three years. By registering to the ESTA conference or any part of it, you give explicit consent to the use of your data in this context.
If you have any questions or concerns about our use of your personal information, then please contact us at contact@esta.biz